Door Access Control Security Systems
INSTALLATION AND INTEGRATION OF DOOR ACCESS CONTROL SECURITY FOR YOUR APARTMENTS, CONDO, OFFICE AND BUSINESSES
Why you need DOOR ACCESS CONTROL
Access Control locks and unlocks doors in response to an ID card, without any personal intervention. It provides the security you need while permitting authorized people to enter your premises with ease and allows you to check your visitors before granting entry. Access Control can also extend to your parking lot or other remote site. A log of all entries and exits is automatically created leaving an audit trail for security and review purposes. You can even get a log of the length of time doors remained open.
No more keys. Keys can be copied and passed on to unauthorized persons. An employee who is dismissed or who resigns may keep a copy of the key and enter the premises unlawfully. With Access Control, the entry devices cannot be duplicated by unauthorized personnel and any devices retained by staff who have left your firm can be easily invalidated. You can even give entry devices to temporary employees and preset the date and time when their validity is nullified.
Go back to Door Access Control
Door Access Control : How it works
The access code is integrated into the ID Card. An employee simply holds the ID Card in front of the reader to obtain entry. It may even be read through a wallet. The time required by the system to identify the person is very short, so the action can be totally hidden from passersby. Entry may be restricted or denied by the administrator by defining times or dates when entry is prohibited. Permission may also be cancelled at any time by the system administrator by issuing the proper command to the controller.
Go back to Door Access Control
Door Phone Intercom Access Control for Condo, Apartments and Buildings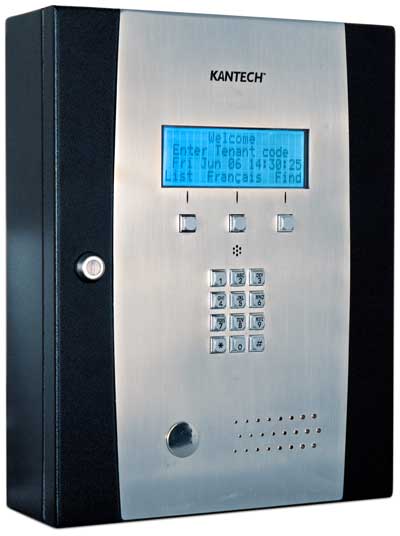 Sample Door Phone Intercom Access Control
Access Control for Indoor and Outdoor
Access Control can be installed on both indoor and outdoor entrances so that zones may be accessible only to employees. Weather resistant panels and controls are available for outdoor use. In addition to main entrances, Access Control can be installed in warehouses, archives and other restricted areas in your office or plant, limiting access only to select employees.
Go back to Door Access Control
Door Access Control Systems : Fire Alarm regulations
Magen Security Alarm - Access Control Systems meet all regulations of the fire authorities. They are reliable and long lasting and require no maintenance. They have a back-up power source which takes over in case of power failure. The Access Control components are attractive and can be designed to complement the colour scheme and design of your office and may even be totally concealed.


Go back to Door Access Control
Access Control Audit Trail Computer Log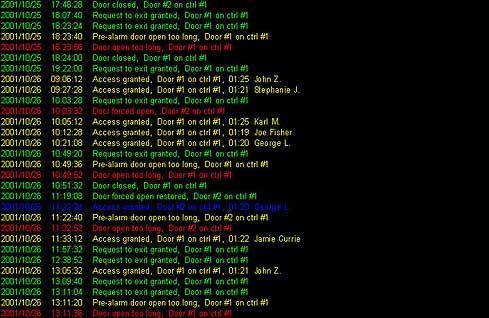 Sample Door Access Control - Audit Trail Log
Go back to Door Access Control
Components of Access Control
The components of an Access Control System are:
Access Control Audit Trail- Computerized Logging of access usage
Electric Door Strike
Magnetic Lock
Exit Detector
Security Alarm
Surveillance CCTV Camera
Video and Voice Door Intercom
Biometric Reader
Magnetic Stripe Reader
Proximity Card Reader
Finger print Reader
Hand Geometry Reader
Badge ID Card Reader
Key Tags
Anti-Passback / Anti-tailgaiting
Access Control Keypads
Access Relay
Door Access Controller
Biometrics Door Access Control
Biometrics constitute a more sophisticated type of Access Control. A body feature of your employee can replace the ID card. Fingerprints, handscans, iris patterns, facial features or spoken instructions can be almost instantly examined by scanners and compared to data in a database, to open a door or to assure that it remains locked. With Biometrics, your staff don't have to remember frequently revised PINS or passwords and don't need to carry an ID card, which might be lost. With Biometrics, authorized persons always have their permits on them. The equipment recognizes the person by the feature analyzed and stored in the database.
Biometrics are particularly suitable if your business has high traffic and if you want to minimize impediments to free movement. Biometric systems do their searches almost instantaneously. Approved customers, members or staff can simply breeze past the scanners without interference. The systems are virtually foolproof because the biometric features are unique to each individual and can't be copied. Since with Biometric Systems you no longer have to administer PINs and passwords they also offer cost savings on administration and maintenance.
Go back to Door Access Control
Contact Magen Security Alarm
Magen Security Alarm can help you analyze your needs to select the type of Access Control most suitable to your business. Magen Security Alarm design and install the system according to your specific security needs and in compliance with municipal fire regulations, always keeping up with the appearance of your office.
Go back to Door Access Control
Door Access Control and Biometrics - Photo Gallery (CLICK HERE)