Presentation Display with LCD/LED
INSTALLATION FOR YOUR BOARDROOM PRESENTATION DISPLAYS AND BUSINESS DIGITAL INFORMATION AND ADVERTISING SIGNAGE
You already know that you need a digital display, but which is the right type for your needs? It's hard to keep up with all the abbreviations, initialisms and acronyms in electronics. New ones crop up daily and even the experts can't remember them all. You've heard about electronic signs called LEDs, LCDs, Plasma and other terms. And then there are the projection technologies to complicate things further! How can you know what will best serve your purpose if you don't even know what the letters stand for, let alone what the displays do, how much they cost and what's so good about each?
Magen Electronic Displays offers a broad range of electronic signs. So we don't push stuff that isn't right for your business. Magen Electronic Displays will help you identify the electronic technology that is best for your business. We help you select the technology that:
Will make the strongest impact on your target audience in the environment of your business
Will give the best return on your investment
Is easy to operate
Inexpensive to maintain
Outdoor and indoor digital signage displays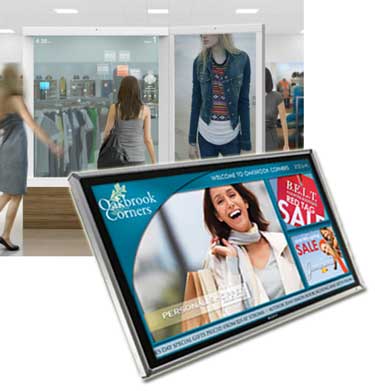 For outdoor digital signage advertising and for informative notices, we promote primarily LED displays. These capture the attention of passers-by, by providing eye catching graphics and short textual messages that change rapidly. A driver can absorb the message in a short drive-by time and because of their brightness, LEDs can be seen from far off. LEDs work effectively indoors as well, and are appropriate for a variety of messaging purposes including very sophisticated integration with your production systems.
For indoor digital signage displays used in presentations and in training, where a viewer concentrates on the screen for several minutes, LCD is currently the most suitable technology.
Which screen you choose depends on the size you need, the length of time that your viewers will be watching the screen and the ambient conditions.
Which technology you choose depends on the size of screen that you need, the length of time that your viewers will be watching the screen and the ambient conditions. For presentations and lectures, you need the highest resolution screens available. For catching the eye of shoppers as they wander by, you need strong contrast, sharp colours and rapid refresh. And regardless which type of display, you always want simple operation, low operating cost and easy maintenance.
Collect information to increase profits
Magen's systems don't just inform the public, they also collect information that is useful to YOU. You can count the number of people on your premises at any time; you can identify which areas get the highest traffic; you can identify the hours that any area is most popular; and our technology can do more too. With the information collected, you can lay out a more effective placement of your displays and design messages better aimed at your target audience. And once you see the kind of information that you can collect, you will come up with other ways to use it.
Magen is a leader in digital signage including the installation of LED, LCD and Plasma displays for use in commercial settings and in presentation rooms. Magen is one of the major suppliers of LED signs in Canada.
For your digital signage needs, contact Magen. Magen is the integrator to consult before making your selection. We will help you identify the display that best meets your needs, that is most cost effective for you and most important, Magen will integrate it with your other systems.
Call us at 416.658.5757 from 9:00AM til 6:00PM, Monday to Friday. We are happy to assist your presentation needs.