Home Theatre Equipment Installation Designs
What is home theatre?
Home Theatre is the room containing your video and audio equipment for the viewing and listening pleasure of your family and friends. The equipment may consist of a high quality TV, DVD player and stereo at the low end. At the high end, it may include a front projector, a high precision screen and a set of amplifiers and speakers, strategically positioned to produce high quality sound emanating from different locations in the room, to simulate a real life listening experience. In most cases there will be multiple input sources such as cable, satellite, VCR, DVD and others.
The Home Theatre will have plush seating organized for comfortable viewing, motorized window coverings to block out unwanted exterior light, appropriate lighting to facilitate viewing, climate control and a panel to control all the systems. Control is by touchscreen with macro commands to shut the drapes, dim the lights, adjust the temperature, lower the screen and projector from the ceiling when the Start Movie command is given, all with a single touch. The shape, size and dimensions of the room,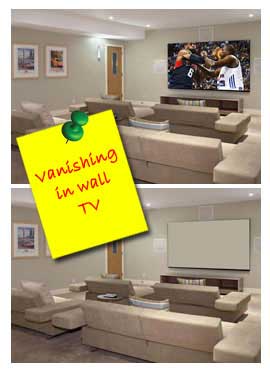 the seating, window and wall coverings, as well as the positioning of the speakers will all affect the sound and the visibility. Preferably, the room will not have too many windows nor very large ones.
The Home Theatre may contain hundreds of metres of hidden video and audio wiring, connecting all the various components, as well as the room lighting, climate control and other systems and a sufficient power supply for all the equipment. With the large number of components and heavy electric load, the Home Theatre will have numerous power outlets and its own circuit breaker.
What Magen Home Automation can do for you
Magen Home Automation will help you design your Home Theatre and select the projectors, screen and audio equipment according to your requirements and budget. We work closely with your architect, electrical engineer and other system designers to integrate all the components. We work together with your home decorator in selecting the furniture, carpeting, and window and wall coverings to assure that these will be consistent with your viewing and audio requirements and to set the view lines correctly. And if you (or your home decorator) prefer not to see a large black rectangle on your wall when not viewing, Magen can make it (almost) invisible.


Magen Home Automation installs all the components, integrating them aesthetically with your home decorator's design. We provide a full responsibility Home Theatre service.
Even the best and most expensive video and audio equipment has to be calibrated and adjusted once it is set up and connected, to assure that you will get the most out of it. The picture and sound have to be calibrated for colour, tint, sharpness, brightness, contrast, tone and balance. On completion, we calibrate all our installations to assure that they are clear and crisp and that the sound flows smoothly from speaker to speaker.
Magen Home Automation systems are designed so that anybody in the house can control any aspect of the Home Theatre with ease. We instruct all members of the family in Home Theatre operation and control. All our cables are colour coded and labeled for ease of maintenance and repair and to enable you to easily add new equipment whenever you may want to.
If you are planning to install Home Theatre in your home, contact Magen Home Automation at 416.658.5757 now to review your plans and to help develop your ideas. We can help you avoid mistakes that may cost you later.