LCD Presentation Display Solutions
INSTALLATION OF LCD SCREEN FOR YOUR DIGITAL SIGNAGE, BOARDROOMS AND HOME THEATRE SYSTEMS
WHAT IS LCD
LCD (Liquid Crystal Diode) technology is what runs most of the screens on laptop computers. In LCDs, a flourescent backlight sends light through its liquid crystal molecules and a polarizing substrate. LCDs are very sharp, offer good colour, are very long lived and consume very little power. They are thin and lightweight. They are also free of burn-in. LCDs are available as touch screens for use in interactive applications. Maximum screen size is currently 80". If your display is always on, LCD is an excellent choice.
LCDs are suitable for a large variety of display needs
Advertising in shopping malls, hotels, restaurants, retail and other establishments
Multimedia presentations at conferences, meetings and in training classes
Presentations in executive boardrooms
Home theatre systems
Promotion of services in banks and other financial institutions
Information in theatres, museums, universities, religious organizations and other institutions
Information and directions in hospitals and other health services
Information at airports, railroad and other transportation terminals
Control room and command centre applications in water and electrical power distribution allowing plant operators to view network conditions and to take action before serious problems arise
LCDs may be used in signage display systems consisting of both interactive and non-interactive displays and may be included in systems using other types of electronic displays. Monitors may be located to inform employees of the day's sales campaigns and other activities, other displays may advise on conference room locations or may inform customers and visitors of sales in different departments. Interactive touch screens of building plans may be provided at different locations. Data for all screens may come from a singlesource via cables. The system can be managed over the Internet to allow for remote content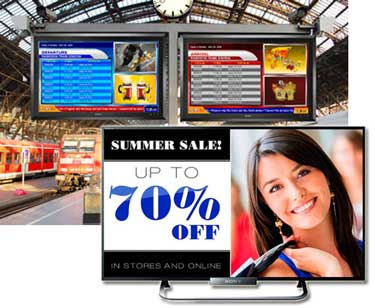 revisions and updates and to change schedules, all from a single central source. Retail stores and corporate headquarters may play pre-recorded information to customers and employees, providing up to date information or entertainment or both.
Magen Electronic Displays can help you decide if LCD is right for you or whether another type of display is more appropriate to your needs. We will help you determine the size of your installation, the best placement and positions for your electronic displays, with regards to lighting and other environmental features of your facility, as well as in relation to the location of your target audience. We can help you select the operating system that is best for your installation.
Magen Electronic Displays expertise will allow you to exploit your electronic display system most effectively and to maximize benefits.
For your digital signage needs, contact Magen Electronic Displays. Magen Electronic Displays is the integrator to consult before making your selection. We will help you identify the display that best meets your needs, that is most cost effective for you and most important, Magen Electronic Displays will integrate it with your other systems.
Call us at 416.658.5757 from 9:00AM til 6:00PM, Monday to Friday. We are happy to assist your presentation needs.
LCD Presentation Display Useful Links